Battery Recycling at Salamanca Fresh
Salamanca Fresh are happy to announce that we now offer battery recycling in all our stores! Ecobatt battery recycling units have now been installed in every Salamanca Fresh store. A range of batteries and e-waste can be deposited into the units by customers during store opening hours: Household batteries Laptop & power tool batteries […]
Salamanca Fresh are happy to announce that we now offer battery recycling in all our stores!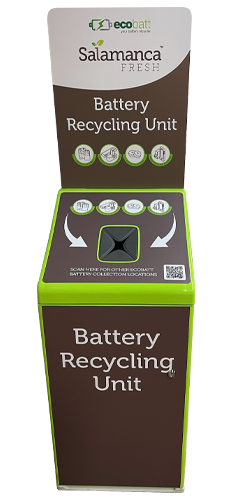 Ecobatt battery recycling units have now been installed in every Salamanca Fresh store.
A range of batteries and e-waste can be deposited into the units by customers during store opening hours:
Household batteries
Laptop & power tool batteries
Button cell batteries
Mobile phones and accessories
These items are collected by Ecobatt, sorted and processed back to raw materials, to be reused for new manufacturing. Ecobatt is Australia's leading battery recycling company, handling the complete collection and recycling process to ensure that the precious materials in these items do not end up in landfill or polluting our environment.
We are very excited to provide this valuable recycling service to all our customers in such a convenient way and consider it to be an important step towards supporting our commitment to environmental sustainably.
How does the recycling process work?
When the units are full, they are collected and loaded into an Ecobatt collection vehicle, which are specially equipped to safely transport batteries. They are then taken to a local Ecobatt depot to be collated for delivery to Ecobatt's automated sorting plant.
How are the batteries sorted?
The batteries and other e-waste are sorted using a state-of-the-art robotic AI system that detects the size and chemistry of the items and separates them accordingly. This sorting process has a 99%+ accuracy rate, allowing Ecobatt to process each battery category or type, in their respective grades for recycling. More detailed information on the sorting process can be found here.
How are the batteries processed for recycling?
Recovered metals like copper, aluminium and steel have many and varied uses, as well as strong recycling attributes. Many of the recovered metals from batteries are used as raw material inputs for the group's Castings Tasmania manufacturing business.
Recycled materials such as Manganese, Zinc, Lithium, Cobalt, and Nickel are in high demand and suit a variety of applications. Some of these materials could find their way into the fertilizer and chemical industries. Ecobatt are striving to achieve the purity necessary that enables the recycled constituents to go back into the re-manufacture of batteries, and for use in smelting for alloying purposes.
The group's new laboratory is set up to facilitate checks and testing on site so that the most effective outcomes for recycled materials and metals can be achieved, with speedy feedback and turnaround of results.