Four of Us Wine
Growing happily in the Coal River Valley, just 20 minutes from Hobart's CBD, are the varieties of Pinot Noir and Sauvignon Blanc. These varieties make the fresh, ready to drink flavours of the Four of Us wines. With a cool climate, maritime environment and sandy soil, mixed with just enough clay to retain the perfect […]
Growing happily in the Coal River Valley, just 20 minutes from Hobart's CBD, are the varieties of Pinot Noir and Sauvignon Blanc. These varieties make the fresh, ready to drink flavours of the Four of Us wines.
With a cool climate, maritime environment and sandy soil, mixed with just enough clay to retain the perfect of amount of rainfall, this area is perfect for these classic vines to thrive. The growing season receives just the right amount of rainfall to ensure the grapes produced are of a consistent quality, each vintage.
Renowned wine-maker, Alain Rousseau, takes the freshly picked grapes and works his magic to create the Four of Us range. Alain posseses extensive French training, experimental techniques, and an exceptional knowledge of Tasmanian cool-climate growing. Hence his dinstinctive ability to create world-class wines. These wines are perfectly balanced, are superb paired with food and age gently.
The Four of Us range tastes of sweet berries fruit aromas, the palate is rich and juicy with soft tannin and balanced acid. With good length in the finish, the wine is able to savoured.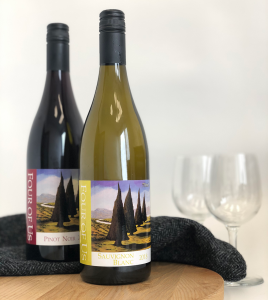 Tasting Notes
Pinot Noir: Pure red cherry and blackcurrant aromas follow with mixed red berry flavours. The fresh fruit flavours linger with an elegant and soft tannin structure. Delicious served with beef or lamb dishes, stews, roast chicken and other hearty meals.
Sauvignon Blanc: Vibrant, grassy and gooseberry aromas continue through to the palate. Zippy and fresh acid holds the animated fruit structure together, giving considerable length. Perfect for pairing with green salads or meals containing peas and asparagus. Also an excellent accompaniment to delicate fish and seafood dishes.