Support Your Heart Health
Get your FREE Heart Check and shop at Salamanca Fresh to receive your FREE book! Doctor Warrick Bishop is a practicing cardiologist, best selling author, and keynote speaker and who is passionate about preventing heart disease on a global scale by helping people live as well as possible for as long as possible. His book, […]
Get your FREE Heart Check and shop at Salamanca Fresh to receive your FREE book!
Doctor Warrick Bishop is a practicing cardiologist, best selling author, and keynote speaker and who is passionate about preventing heart disease on a global scale by helping people live as well as possible for as long as possible. His book, "Have You Planned Your Heart Attack?" is a best seller and we are bringing you the opportunity to collect your own copy, FREE, from your local Salamanca Fresh store.
It's easy to enter, simply follow the steps here: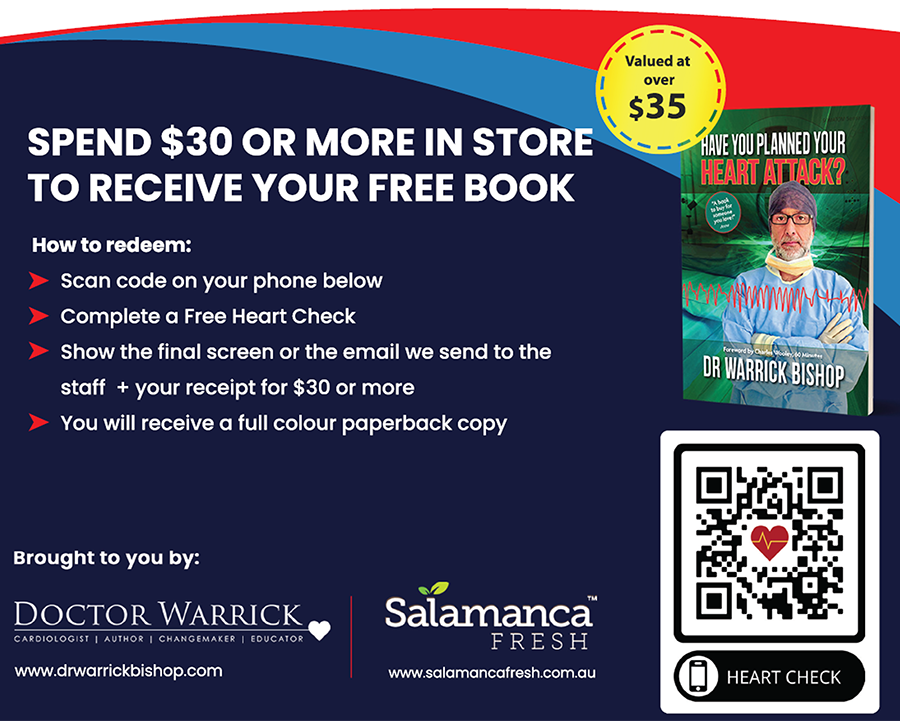 Are you at risk of sudden heart attack?
Heart disease is the #1 killer in the Western World.
Someone dies every 28 minutes from heart disease.
Many heart attacks are preventable.
Regular exericise and eating healthy is no guarantee you won't succumb to this silent killer.
How healthy is your heart?

Free Book Promotion Terms and Conditions
Customers may redeem one free book when they complete the following steps:
Complete a free heart risk check
Spend $30 or more in one transaction at any Salamanca Fresh store
Display the final screen or welcome email of the heart check PLUS the Salamanca Fresh receipt to a Salamanca Fresh staff member.
Promotion is open to all Salamanca Fresh customers.
The book for redemption is a full colour paperback print edition entitled Have You Planned Your Heart Attack, by Dr Warrick Bishop.
Only while stocks last and only from Salamanca Fresh stores.
Books can only be collected in-store. Books will not be delivered or posted for redemption.
Promotion continues until all books have been redeemed.
No details will be collected by Salamanca Fresh.
Details submitted to the Healthy Heart Network through Heart Risk Check are completely confidential and will never be shared with anyone.