Wine of the Month – 42 Degrees South
As a collection of wines by the renowned Frogmore Creek estate, the 42 Degrees South range covers everything from the much loved Pinot Noir, through to Reisling and even a Sparkling Rosé. 42 degrees south is the central latitude of Tasmania and reflects the cool climate position for which the grapes are grown. The finished […]
As a collection of wines by the renowned Frogmore Creek estate, the 42 Degrees South range covers everything from the much loved Pinot Noir, through to Reisling and even a Sparkling Rosé.
42 degrees south is the central latitude of Tasmania and reflects the cool climate position for which the grapes are grown. The finished wine is driven by the quality of the fruit with minimal intervention from the wine-making team who choose to let the fruit do the work. The end result is fresh vibrant wines that showcase the very best of the Tasmanian Cool climate.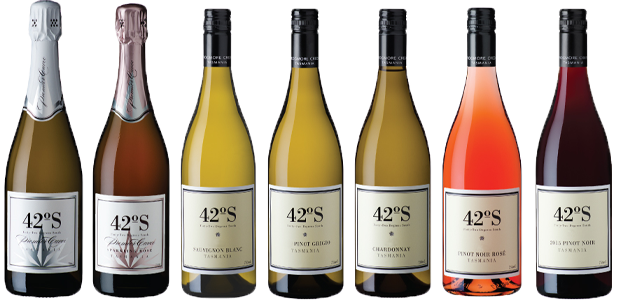 The versatile 42 Degrees South range has plenty to offer
Pinot Noir: Made from 100% Pinot Noir grapes, grown in the Coal River Valley. The Pinot Noir is fresh with primary aromas of raspberry. Fruity with a light tannin and well balanced structure.
Cabernet Merlot: A mix of Cabernet, Merlot and Cabernet Franc grapes, all grown in the Coal River Valley. This wine has black currant and cedar aromas and the palate is tight with silky tannin. With a taste of plenty of ripe berry fruits, this wine has a lengthy palate.
Rosé: This vibrant wine contains a combination of Pinot Noir, Chardonnay and Pinot Gris grapes, which creates fresh, fruity aromas. Described as light, crisp and frisky, it makes for a refreshing Summer wine.
Chardonnay: This Chardonnay is a true reflection of the terroir and typical Tasmanian wine conditions, hand crafted. Made from 100% sustainably grown Chardonnay grapes and also grown in the Coal River Valley, it is fresh and crisp with a light carbonic bubble, bringing freshness to the palate. With citrus flavours with minerality, it is very well balanced.
Riesling: This Riesling has fresh aromas of figue and flowers.  It is near dry with generous texture and mouthfeel, yet fresh and fruity.
Sauvignon Blanc: Delicate floral nose with sweet pear aromas, creating a fruit driven palate with a crisp finish.
Pinot Grigio: Fresh and intense aromas of sweet pear, this wine is dry with a rich and generous texture and delicate tropical fruit flavours.
Sparkling: This sparkling wine is made from Chardonnay & Pinot Noir grapes, grown in Campania, Coal Valley. This fine and subtle wine showcases aromas of toasty brioche and delicate citrus subtly emerges from the fine beads. Additionally, full and crisp flavours of apples can be tasted, with a lengthy, creamy structure.
Sparkling Rosé: A Rosé containing a mixture of Pinot Noir, Pinot Meunier and Chardonnay grapes, all grown in the Coal River Valley. This sparkling Rosé has a deep salmon colour with a nose of light strawberry flavours and fresh fruit. Also, on the palate you should taste fresh red berry fruit with a creamy texture.
Head into our Salamanca, Davey St, Lenah Valley, Bellerive and Sandy Bay stores to pick up your favourite bottle of this delectable drop.