Nuts for Love
The Baru story begins in Sydney. Ricardo, from Brasila, the capital of Brazil, was travelling with his now 20 year old son and there he met Anna, from Hobart. Soon after, Anna travelled back to Brazil with Ricardo, as he needed to return for work as an art director. Working on a large political campaign […]

The Baru story begins in Sydney. Ricardo, from Brasila, the capital of Brazil, was travelling with his now 20 year old son and there he met Anna, from Hobart.
Soon after, Anna travelled back to Brazil with Ricardo, as he needed to return for work as an art director. Working on a large political campaign meant he had to work long hours seven days a week. This provided Anna with plenty of time to explore the culinary delights Brazil has to offer and one of her favourites was a wonderful nut from the Baru tree.
At the time, Baru, traditionally an indigenous Brazilian food, was becoming a hit on the Brazilian health food scene. Anna says she fell in love with Baru for its taste, but then fell in love with the nut again when she learnt of its numerous health benefits and its positive social and environmental impact in Ricardo's home region.
The taste is often compared with almonds, peanuts and even chocolate, but it also has wonderful smoky undertones created by the way it is wood-fire roasted. As for the health benefits, decades of research from both Brazil and the U.S. have uncovered a wealth of nutritional goodness. This nut has the lowest fat and calorie content of all commercial nuts. It also contains a greater level of antioxidants, fibre, potassium, vitamin E and protein than any other nut. What's even more incredible is the roasting process makes the protein more easily digestible. Importantly, while it's generally referred to as a nut it's more of a seed with no known allergies.
Baru are foraged from the wild and only collected once the fruit, containing the seed, have blown to the ground. This nut is bringing attention to the delicate, vital and threatened Brazilian Cerrado ecosystem and the Baru tree. Such positive attention is vital, because the Baru tree is currently an endangered species.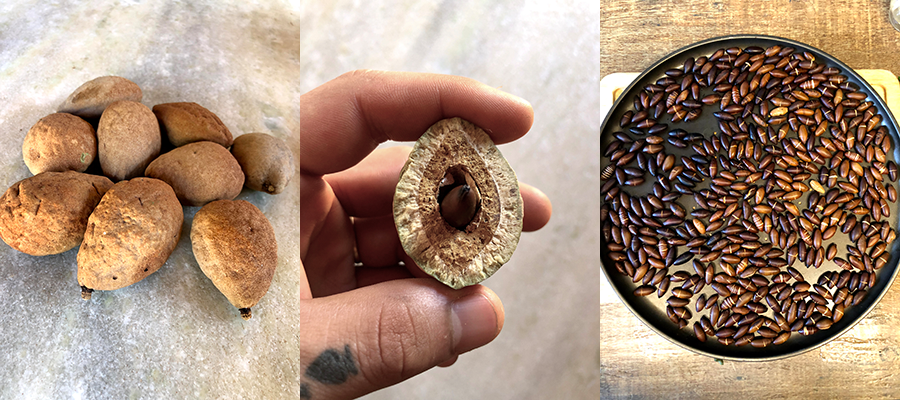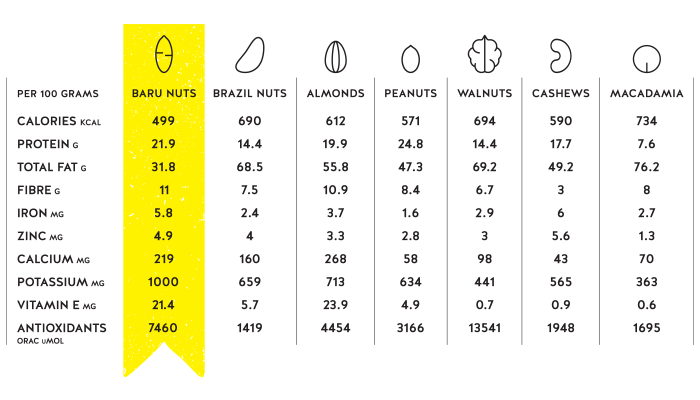 The Next Chapter
When Anna and Ricardo returned to Australia, they felt a Baru-nut-shaped hole in their lives. Around the same time, one of Ricardo's closest friends, Thiago was learning about all things eco-forestry. He had found a passion for protecting the Cerrado ecosystem and wanted to help. After many long conversations, a plan to founded The Baru Project was hatched.
Together, Anna, Ricardo and Thiago realised that by creating an international market for the Baru nut, greater attention could be brought to the tree. They also noted that the surrounding ecosystem and local community could benefit greatly from the sustainable and ethical work. It was with this realisation that they set about founding their co-op. This largely involved learning from the indigenous people how best to forage, process and roast this special nut. The three of them have been working hard to develop ecologically, economically and sociologically sensitive harvesting and roasting practices in Brazil. The nut is roasted using traditional methods, before being packed and sent to Australia.
So, how do you get to try these nuts?
The Baru Project was the very first to see the potential of this super nut in Australia and fortunately for us, Hobart was the very first place in Australia that it became available to purchase. At Salamanca Fresh, we are thrilled to stock this tasty snack in our Salamanca, Davey St, Kingston, Bellerive and Lenah Valley stores.
If you have any questions or feedback look out for Anna and Ricardo and their baby, Lua, hosting tastings in our stores. Alternatively, feel free to send them an email at hello@thebaruproject.com.au