Brookfarm – Sustainable, High Quality, Healthy Food
Brookfarm is an Australian family business that creates an excellent example in leading the way in sustainable farming practices and producing high quality food. Located in the picturesque Byron Bay hinterland in NSW, Brookfarm is predominantly a macadamia farm, with over 4000 macadamia trees planted by the Brook family. What's very special is that in […]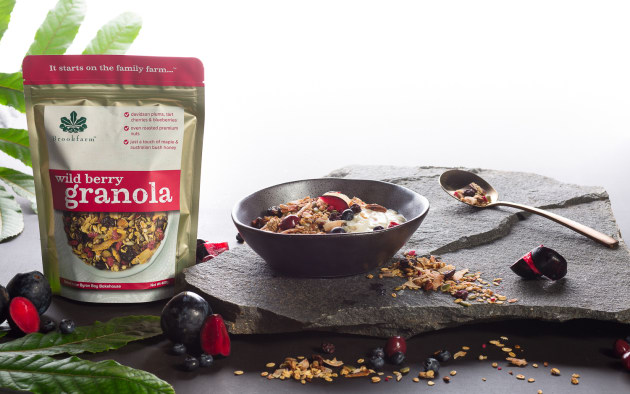 Brookfarm is an Australian family business that creates an excellent example in leading the way in sustainable farming practices and producing high quality food. Located in the picturesque Byron Bay hinterland in NSW, Brookfarm is predominantly a macadamia farm, with over 4000 macadamia trees planted by the Brook family. What's very special is that in the heart of the property, the Brook family have planted 30,000 subtropical rainforest trees to create a wildlife haven. What was once a run down dairy farm, is now a successful working macadamia and eucalyptus farm that is wholly centered around protecting the environment.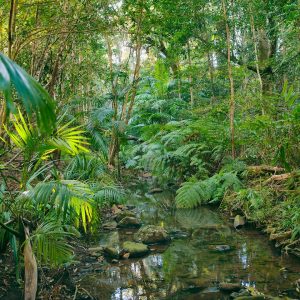 What drives the Brooks is a passion for land, wildlife and supporting nature in sustainable farming practices. Native birds, wasps and bees thrive on the farm, naturally keeping pests at bay, including mice and Nut Borer Moths. They are also working hard at achieving a completely circular economy, hoping to send no waste to landfill. The bakehouse is solar powered and imperfect product is donated or reallocated in order to eliminate waste.
Using the macadamia nuts grown on Brookfarm, the fantastic range of muesli, granola and muesli bars and other health-food products have been created. The Brooks started to produce these products in 2000, selling them at the local Bungalow market. Pam Book created the recipes in the kitchen, while her husband, Martin and their two boys packed up the car and took them to the market. Since then the products have been a driving success, first taking Australia by storm, then being all over the world.
The inspiration for these delicious and healthy products came from Pam's father, Mick Hull. You can read about how Mick inspired the creation of the Brookfarm product range here.
Be sure to head into any of our stores to try this fantastic range of Australian made muesli and granola. You'll find each of our store locations here.