Coaldale Walnuts – A Dening Family Story
The story of how Coaldale Walnuts came to be is an inspirational one – it belongs to the Dening family who wanted a change, worked hard and are now living their dream in a place they love.   Starting out in Sydney, Phil worked as a Rehabilitation Counsellor and Jane as a Registered Nurse. After […]
The story of how Coaldale Walnuts came to be is an inspirational one – it belongs to the Dening family who wanted a change, worked hard and are now living their dream in a place they love.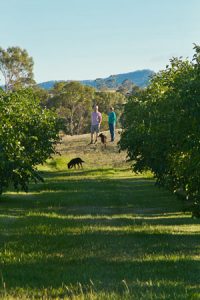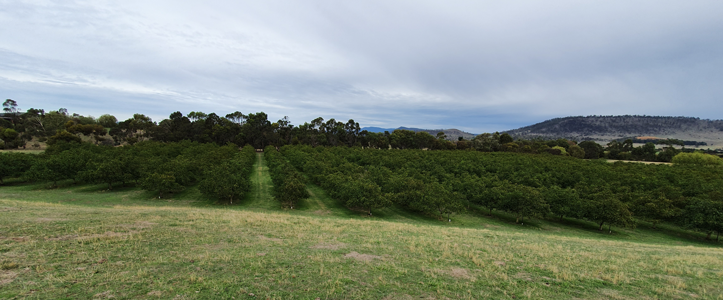 Starting out in Sydney, Phil worked as a Rehabilitation Counsellor and Jane as a Registered Nurse. After the birth of their first child, Phil secured a position in Tasmania, moving here to open the new state branch. With baby in tow, they packed up and made the move south. Two years later and just after their second child had arrived, they were living on 5 acres in Cambridge when Phil was offered a promotion in Victoria. After much deliberation, Phil and Jane realised that they simply could not move from the beautiful place they call home. What they really wanted was to become farmers and say good-bye to the juggle of managing high stress jobs whilst raising small children. In 1994, Phil changed his job and the Denings bought an undulating block in Richmond, where they built their house. They set about reading many books and Jane studied horticulture.
Their wide reading and explorations eventuated in a 50/50 joint venture, to expand the production of Australian walnuts for a company now known as Webster Walnuts. In 1997 they planted 1,500 walnut trees across 10 acres. Phil and Jane were able to focus on farming the orchard, but were supplied with the trees, equipment, and processes. This suited the Denings perfectly, as they could venture into a whole new world of farming, with a well-established and helpful support system behind them, whilst also balancing the task of raising three small children.
Venturing Onwards with Walnuts
When Phil and Jane saw a space arise in the market, they decided to venture out on their own. In 2006, after fifteen years working with Webster Walnuts, they parted ways amicably and Phil set to work building and modifying their own walnut processing plant.
The first year on their own saw a steep, but valuable learning curve. A macadamia harvester was purchased, and air conditioning suppliers were contracted to help create adequate drying equipment. Unfortunately, the first harvest was badly affected by blight. (Blight is a fungal infliction that is transmitted through water droplets and causes the kernel to become blackened and bitter.) However, this experience brought to light many quick lessons in blight management. Phil and Jane were able to use their smaller yield to refine their methods of bringing their nuts to market.
Taking these early challenges by the horns, Phil and Jane forged ahead and have been growing their farm and refining their skills tirelessly. "We are always reviewing our practices; it's always about working smarter, not harder". This has led to their walnuts being sold in Tasmania, Sydney, and Adelaide.
From Strength to Strength
The Denings attribute part of their success to the Chandler variety that grows on their property. This variety cracks more easily and tastes and looks better than many other varieties. It is also believed that the Tasmanian climate and the microclimate of the Coal River Valley ensures the trees and nuts to develop more slowly, allowing the kernel to develop a better flavour.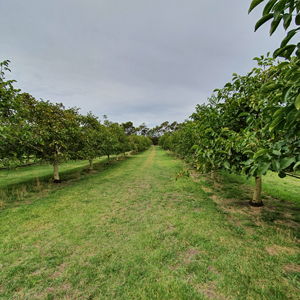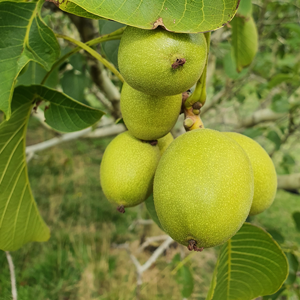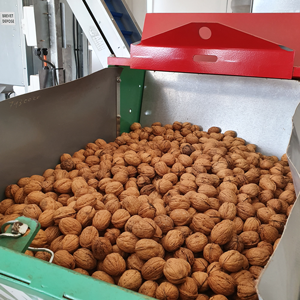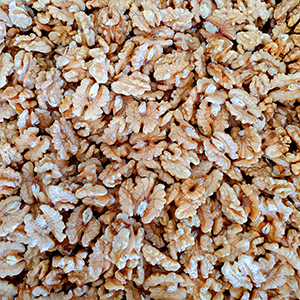 When it comes to harvesting the walnuts, the Denings have developed a process that works. Making one pass a week, every week for four weeks, the bulk of the mature nuts is harvested from the orchard after falling naturally. At the time of harvest, the nuts contain 30% moisture. However, after being washed (in the most ingenious hand-made antique washing machine), they are sorted, inspected, and dried down. Drying is complete when the nuts contain only 8% moisture.
Each year, the Denings host an open day. Here they and invite people onto their farm to pick the leftovers from the orchard. This annual event has become a highlight for the couple. Being natural hosts, they enjoy connecting the local community with the land. This year, 2020, will have been the first year that this much anticipated event has not taken place, due to the social-distancing restrictions in place.
One of the Denings' favourite features of living and farming in Richmond is the tight knit community that they have become a part of. This community encompasses not only neighbouring farms and friends, but also other walnut growers and farmers in the Coal River Valley. This broad community continues to share advice, encouragement, ideas, and tips. They even help each other develop new and innovative products.
Where to From Here?
With expansion planned in the next year, Phil and Jane are looking forward to the future. Of walnut farming, they agree that it is all things combined: "hobby, passion, business and life". They have never seen a negative arise from this direction of their lives. Now they are preparing for their daughter and son in-law to take over the farm in the years to come.
With the new season of walnuts having just been harvested, be sure to head into Salamanca Fresh. In all our stores, you will find walnuts in the shell, as well as packaged kernels. Head on in and give them a try; immediately taste the difference of Tasmanian Coaldale Walnuts.