From Naser & Cheryl To You – The Story of Daci & Daci
Naser and Cheryl are the husband and wife creators of the Hobart institution that is Daci & Daci Bakers. Known and loved by many as the European inspired Patisserie that can be easily summed up in their own words: "Founded in 2011, and located in Murray Street, Hobart Tasmania, Daci & Daci is an opulent […]

Naser and Cheryl are the husband and wife creators of the Hobart institution that is Daci & Daci Bakers.
Known and loved by many as the European inspired Patisserie that can be easily summed up in their own words:
"Founded in 2011, and located in Murray Street, Hobart Tasmania, Daci & Daci is an opulent destination for all-things-sweet, an artisanal patisserie, coffee palace, all day food and a buzzing meeting place for business, families & friendships."
Both Naser and Cheryl come from baking and cooking backgrounds and their shared love of baking is what brought them together. Naser, originally from Kosovo, moved to Hobart in 1999 due to the war in ex-Yugoslavia. Aside from living in Melbourne from 2002 to 2008, he's been a Hobart resident ever since. Having grown up in restaurants and with bread being an important part of Naser's culture, he decided to embark upon a baking career.  Cheryl spent most of her working life as a chef and patissier in London's West End in exciting fine dining restaurants. After arriving in Melbourne in 2003 as a tourist, she was persuaded by a friend to stay on a working visa and secured a job in her most-admired Melbourne bakery. It was the very same one that Naser worked at and they met on Cheryl's third shift.
After moving from Melbourne to Hobart in 2008, Naser and Cheryl decided to open their own business, something special that would showcase their combined skills and talents as husband and wife. That is how Daci & Daci came to be. Inspiration for the pastries and recipes are drawn from growing up and working in Europe and the UK as there is such close proximity to many countries, all with their own unique relationships with food. Daci & Daci now has two patisseries – one in Murray St, Battery Point and the other on New Town Road, New Town. However, they don't stop there – this creative duo also run a wholesale side to their bakery, so we can offer their sensational delights in all our Salamanca Fresh stores!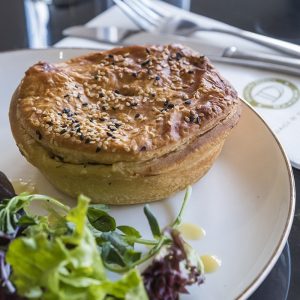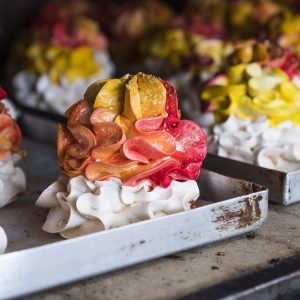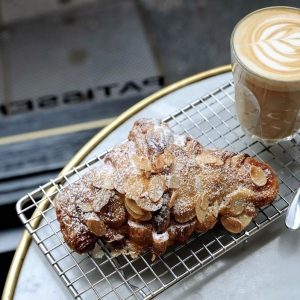 Daci & Daci also love to support local Tasmanian produce, by using Huon Valley free range organic duck and chicken eggs on our breakfast menu and they have always baked with local free range eggs. Seasonal local fruits are used for the patisseries, along with vegetables and dairy products. Locally grown salad greens accompany the savoury dishes and Tasmanian meat is used for pies, sandwiches and breakfasts, along with Huon salmon.
While Naser and Cheryl share the same passion for cooking, their favourite things to eat and bake are their own:
What is your favourite item to bake?
Naser: Macarons of assorted colours & flavours!
Cheryl: Anything with a pastry crust – sweet or savoury.
What is your favourite one to eat?
Naser: Our smoked salmon and caramelized onion tart – it's the perfect snack with some local greens and a sharp mustard dressing.
Cheryl: Chicken, creamed leek & tarragon pie.
What is your favourite pastry to enjoy on a special occasion (such as Christmas)?
Naser: Tarte Tatin with any seasonal fruit and a home mode ice cream.
Cheryl: Fruit mince pie – every time.
Be sure to try the Daci & Daci range of fresh pastries and sweets, available in the deli and cake sections of all of our stores.