From Jaymie, Stuart and Chris to You
   Jaymie, Stuart and Chris are the charismatic trio behind Range TASMANIA, a refreshing, distinctive (and absolutely delicious) condiment brand. With intriguing flavour combinations, such as carrot & lime jam and sweet chilli cumquats, gracing the range, you know you're in for a taste sensation when trying anything from Range TASMANIA. These hand-made delights are […]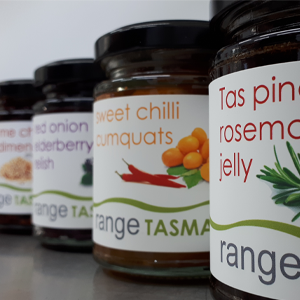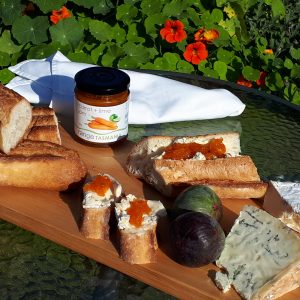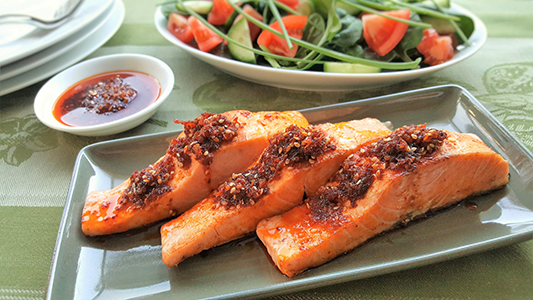 Jaymie, Stuart and Chris are the charismatic trio behind Range TASMANIA, a refreshing, distinctive (and absolutely delicious) condiment brand.
With intriguing flavour combinations, such as carrot & lime jam and sweet chilli cumquats, gracing the range, you know you're in for a taste sensation when trying anything from Range TASMANIA. These hand-made delights are the result of a desire to produce delicious, quality products with a focus on natural ingredients and avoidance of unnecessary additives.
The story begins in picturesque Middleton, situated along the D'Entrecasteaux Channel, where Jaymie, Stuart and Chris settled after moving from Canberra, 18 years ago. Of this part of the world, all three still agree that, "The community is wonderful, the people and neighbourhood are amazing and the whole area is just beautiful."
Cackleberry Farm was purchased and the team spent six years producing certified organic eggs (or Cackleberries, as they were known) with 3000 chickens. The eggs were incredibly popular and were also stocked in our Salamanca Fresh stores. Unfortunately, a severe drought that gripped Queensland affected the supply of certified organic feed. As a result, the organic production could sadly no longer continue.
The difficult decision was then made to cease egg production. Jaymie, an IT professional, Stuart, who has a background in hospitality and Chris, an architectural draftsman, set about experimenting in the kitchen with the versatile collection of crops that were already thriving upon their slice of heaven. The initial produce included elderberries, cumquats and passionfruit.  Tamarillos, strawberries, rosemary and garlic soon joined the mix. While no longer certified organic, the team have maintained their organic principles in growing their crops. They have consistently practiced sustainable and ethical farming practices and animal husbandry. For example, after cleaning up the carrot peelings leftover from jam production, Bert the pig enjoys a good stroll around the property, checking in on his old donkey friends, Button and Zip!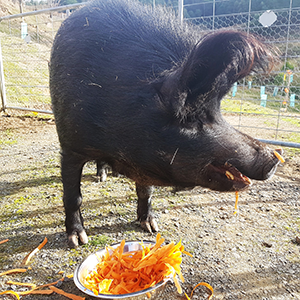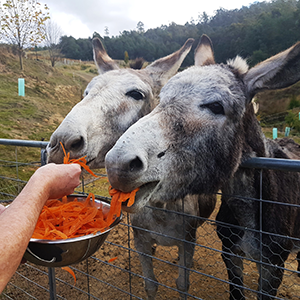 A lot of dedicated hard work, creativity, testing and trialing goes into the development of Range TASMANIA products, which is easy to tell when tasted. Recipes were initially created in their farmhouse kitchen for their own enjoyment. It wasn't long until the team started to introduce the results to their friends, who all encouraged them to take their various sauces and condiments to market. Initially, the Middleton Hall's commercial kitchen was the perfect space to create the products that were destined for the shelves. Due to the popularity of their products, the Range TASMANIA team has since built their own commercial kitchen at Cackleberry Farm.
The products developed by Range TASMANIA have always been inspired by what's growing on Cackleberry Farm. Inspiration is also drawn from what's available from local suppliers, like-minded producers and neighbouring farmers. Hence the brand Range TASMANIA came to be, a name drawn from not only the varied and expanding product range, but the fact that the ingredients are sourced from a wide range across Tasmania. In addition, Range Hill forms the eastern boundary of Cackleberry Farm.
The current product offering spans an award-winning variety already including jams, jellies, chutneys, chilli condiment, elderberry vinegar and cordials. However, the team are busy trialing and preparing new products all the time. Some of these include new fermented condiments, Asian sauces and simmer sauces inspired by travel to China, Japan and Korea. Others are being developed with a more Middle Eastern style. Tasmanian herbs and native Australian ingredients are also heavily influencing the direction of future products. Tasmanian Short Bread is the latest new product release and is made to Stuart's traditional Scottish family recipe. We are happy to report, it is to-die-for!
Each member of the team has their own firm favourite Range TASMANIA product. Jaymie is a fan of the Sesame Chilli Condiment, Stuart adores the Sweet Chilli Cumquats as they are, "a beautiful condiment with curry," and Chris can't get enough of the Carrot & Lime Jam.
At Salamanca Fresh, we love all the products that Range TASMANIA has to offer and are proud to stock them in all our stores.