Lauriston Grove Tasmanian Olive Oil
In 1994, the Linardi family planted an olive grove in the pristine South Arm isthmus of Hope Beach, in turn establishing one of the earliest olive groves planted in Tasmania. The unique micro climate present in this environment offered the perfect growing conditions for Tasmania's very own premium quality olives, producing the multi award-winning olive […]

In 1994, the Linardi family planted an olive grove in the pristine South Arm isthmus of Hope Beach, in turn establishing one of the earliest olive groves planted in Tasmania. The unique micro climate present in this environment offered the perfect growing conditions for Tasmania's very own premium quality olives, producing the multi award-winning olive oil of Lauriston Grove.
Within the grove, four different varieties are grown, each with their own properties that lend themselves to either pressing for oil, or eating. Frantoio and Correggiola are Italian varieties renowned for their high-quality oils. Manzanillo is a Spanish dual purpose variety great for both table olives and oil. The final variety is Hardy's Mammoth, which is a table olive with beautiful flavour and texture.
The olives of Lauriston Grove are cared for with organic agricultural principals. When ready, every year upon harvest time, the olives are hand picked using traditional methods – a tarpaulin is placed under the trees and a wide forked rake is used to scrape the olives off their branches and onto the tarpaulins. Any stray leaves and sticks are picked out of the olives and the tarps are then lifted and the olives poured into large bins. The annual harvest runs from May to July and is treated as an ongoing festive occasion, with plenty of family, friends and volunteers joining in the harvest and enjoying each other's company, food, wine, laughter, conversation and music. Anyone can be involved in the harvest and celebrations, with Lauriston Grove holding the "Groove in the Grove" event each year. This event is ticketed and provides a fantastic family day out in the fresh air, with entertainment, beautiful home-cooked food, wine and beer.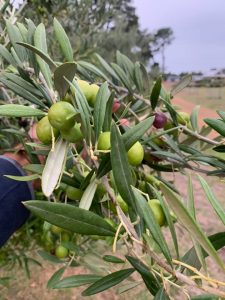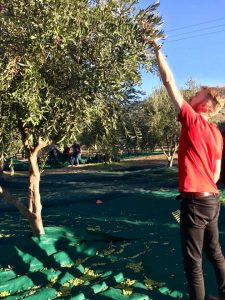 Images sourced from Lauriston Grove.
The beautiful Lauriston Grove olive oil can be found proudly stocked on our shelves at Salamanca Fresh. Click here for store details.