Tasmanian Blackcurrant Syrup Returns
Securing The (Almost) Lost Recipe for Blackcurrant Syrup Ever since the disappearance of the original Cascade Ultra-C Blackcurrant syrup, Tasmanian's have mourned the loss of a traditional Tasmanian favourite. In a show of true Tasmanian spirit, a product so important to the community and its history was not left forgotten. Recently, Westerway Raspberry Farm, of […]
Securing The (Almost) Lost Recipe for Blackcurrant Syrup
Ever since the disappearance of the original Cascade Ultra-C Blackcurrant syrup, Tasmanian's have mourned the loss of a traditional Tasmanian favourite. In a show of true Tasmanian spirit, a product so important to the community and its history was not left forgotten. Recently, Westerway Raspberry Farm, of the Derwent Valley, was given the rights to the original Cascade Ultra-C recipe and set about to restart production of this delicious drink.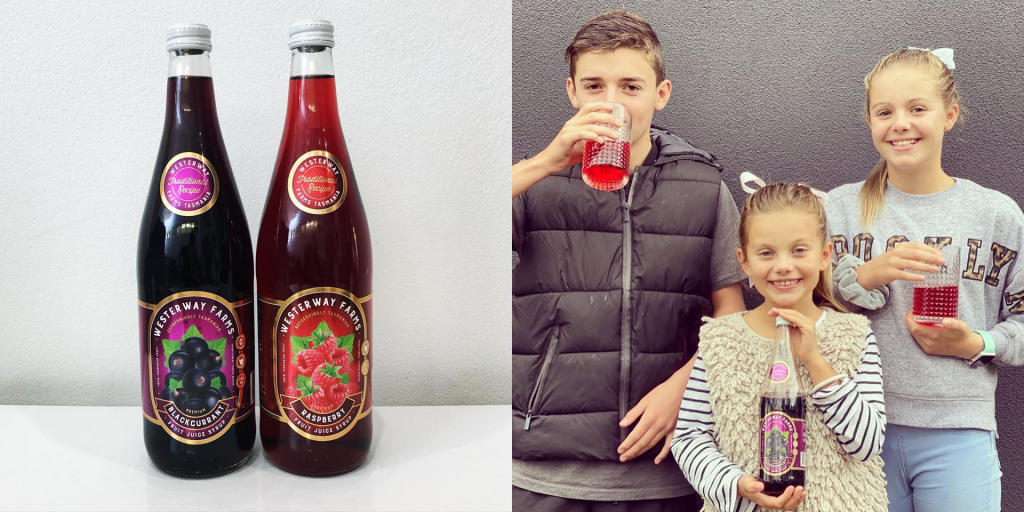 All About the Farm
The Westerway Raspberry Farm is situated on the fertile river flats of the Tyenna River, which runs through the Derwent Valley in Tasmania's rugged Western Wilderness region. The Clark family have historically owned and operated this farm. Westerway Raspberry Farm has been supplying thousands of kilograms of  seasonal soft fruits to Tasmanian and Australian markets for over 10 years. With over 150 acres of land under berry and soft fruit production, The Westerway Raspberry Farm is among Australia's largest soft fruit farms.
Westerway Farm grows an old and traditional variety of blackcurrants known as "White Bud". The White Bud is not a high yielding crop. However, it has a high natural sugar content and a tartness which comes from its high acidity levels. Therefore it is a perfect currant for producing blackcurrant syrup. The tartness of the blackcurrants means they are used to make a delicious syrup, summer pudding, jam or jelly.
The raspberries used in their syrup are the Willamette variety, which is a sweet, juicy, high-yielding summer berry. This variety originates from the north-west of the USA. They are typically used for commercial juice and jam processing, but also make for delicious fresh eating.
As an avid support of Tasmanian local businesses, we are very proud to stock the Westerway Blackcurrant and Raspberry Syrups in all our Salamanca Fresh stores.
Westerway Farm's Beginnings
Raspberries were very common throughout the Derwent Valley 40 years ago. First planted in the old hop fields in Westerway in 1995, the plan was to supply machine harvested processing grade raspberries to Cascade Fruit Syrup. To service this market, Rob Clark planted one acre of the Willamette raspberry variety.
In 1996, when the bushes yielded their first fruit, a 1980s mechanical harvester was used to pick the first harvest. Meanwhile Richard Clark picked and sold the first punnets of fresh berries to a local retailer in Hobart.
From humble beginnings, the farm now has over 60 acres of fertile land under raspberry production. They now own three state-of-the-art mechanical harvesters from the US. This allows them to produce over 160 tonnes of raspberries each season, while employing over 150 seasonal staff. Hence Westerway Farm is able to supply fresh raspberries for the Tasmanian and interstate market.
Other berries grown on the Westerway Farm include blackcurrants, blackberries, strawberries, silvanberries, red currants and golden raspberries. For more information on this versatile farm, please click here to visit their website.