Wine of the Month – Ninth Island Sparkling
Ninth Island Sparkling is the quintessential Tasmanian sparkling wine. Fragrant, fresh and full of vibrant fruit, the Ninth Island label perfectly captures the distinctive charm of the Tamar Valley wine region. Ninth Island is named after a tiny island that sits alone in the Bass Strait, just offshore from the Pipers Brook Estate where these wines are made. […]
Ninth Island Sparkling is the quintessential Tasmanian sparkling wine. Fragrant, fresh and full of vibrant fruit, the Ninth Island label perfectly captures the distinctive charm of the Tamar Valley wine region. Ninth Island is named after a tiny island that sits alone in the Bass Strait, just offshore from the Pipers Brook Estate where these wines are made. The island's windswept, pristine environment is the inspiration behind this modern range of wines that capture the wild flavours of Tasmania.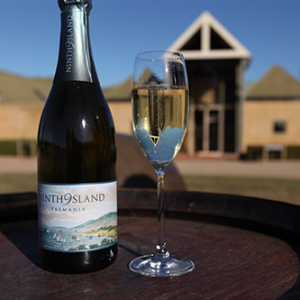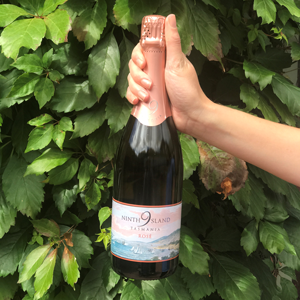 The Ninth Island Sparkling grapes are sourced from vineyard blocks of significant vine age and specifically established and managed for sparkling wine production in the Pipers Brook district. Clonal selections that produce large berries add less phenolics to the base wine. Sites in the Pipers Brook district feature Ferrosol (volcanic) soils, which maintain a steady supply of moisture and nourishment to vines.
When ready, the grapes are selectively harvested in the cold morning hours across the Pipers River Region. The cool fruit was very carefully whole bunch pressed extracted; the result being only the most delicate juice. Cool fermented to retain the exemplary Tasmanian fruit characters and blended to create a wonderfully complex wine, the wine then underwent secondary fermentation in bottle to create a classical Tasmanian sparkling rose. Aged for over a year before release, this wine has complexity and creaminess that only bottle fermentation of sparkling wines can deliver.
Ninth Island Sparkling Tasting notes

Sparkling NV: Bright and Refreshing, this wine is full of citrus zest, vanilla and white flowers. Unashamedly Tasmanian it is delicate yet complex and is a wine that seeks to reflect the pristine environment in which it is grown. The palate is layered with lemon curd from the Chardonnay fruit and delicate strawberries from the Pinot Noir, balanced by creamy notes from aging in bottle and the refreshing natural acidity the Pipers River region is renowned for. Apéritif in style, classic in execution.
Sparkling Rose NV: Bright lifted aromas of rose petals, fresh strawberry, spice and pouring cream. This wine represents the beauty of Tasmanian Pinot Noir, supported by the fresh zesty structure of Chardonnay. The palate is layered and rich, due to bottling aging on lees, balanced by refreshing natural acidity creating a sparkling wine of texture and poise.
These two wines are proudly available through our Salamanca, Davey St, Bellerive, Lenah Valley and Sandy Bay stores.