Meet Your Wine Guy
Meet your wine guy for wine tasting at Salamanca Fresh Join Greg for fun in-store wine tastings at Salamanca Fresh stores around Hobart. With a life-long background in food and wine, Greg is a master in cutting through the wine talk and helping anyone learn more about or just appreciate wine. Greg will happily share his […]
Meet your wine guy for wine tasting at Salamanca Fresh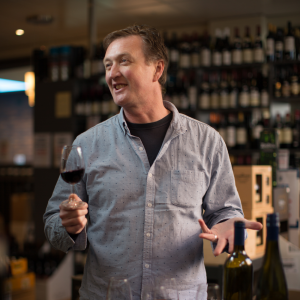 Join Greg for fun in-store wine tastings at Salamanca Fresh stores around Hobart. With a life-long background in food and wine, Greg is a master in cutting through the wine talk and helping anyone learn more about or just appreciate wine. Greg will happily share his knowledge on which foods to pair with which wines and when they're best for drinking. We can't wait for you to meet him and learn all about the wines being sampled. You'll find our Four of Us wine tasting schedule below, but to keep up to date with our upcoming wine tastings throughout five of our stores, be sure to follow our Facebook page.
As Gourmania Food Tours' resident wine expert, by day you'll find Greg taking guests around Hobart on food walking tours, visiting Tassie's top eats and sampling the best picks in town. By night, you'll know him as 'that…wine guy', facilitating private wine tastings and events for Tassies top labels.
"We are incredibly lucky in Tasmania, we are surrounded by unprecedented natural beauty, clean air, fantastic artisanal produce, and a wealth of culinary talent, all in an uncrowded space".
With over 30 years experience and a local Hobartian, Greg's got a HUGE amount of local knowledge and, of course, a few hilarious anecdotes…
To see the incredible range of Tasmanian wines we have on offer, be sure to head into our Salamanca, Davey St, Lenah Valley, Bellerive and Sandy Bay stores.
Upcoming Wine Tastings
Thursday 16th Jan – Sandy Bay Store: 4-6pm
Friday 17th Jan – Salamanca Store: 4-6pm
Saturday 18th Jan – Bellerive Store: 4-6pm
Friday 24th Jan – Davey St Store: 4-6pm
Saturday 25th Jan – Lenah Valley Store: 4-6pm
More about Gourmania city tour

Gourmania's city tour includes stops at Hobart's best eats (no secrets revealed) on a 3.5 hour non-stop eating jaunt. You'll be delighted with inclusions such as private tastings, behind the scenes artisan tours and local insight from those who know.
Whether you're stocking your private cellar, or just looking for a bottle to take to dinner, ask Greg. He'll sort you out and jokes come as gifts with all purchases.
Gourmania Food Tours, are also available and include afternoon Tea-to-Tapas north Hobart walking tour, Asian street eats dinner tour, Salamanca Market tour and private tours. For more information, go to gourmaniafoodtours.com.au. For even more exquisite food experiences around Tassie, check out our sister company Off The Table food experiences that take you on farms, to the source of food brands.