Supporting Local, Now and Always
Supporting Local Since the Very Beginning Ever since our very early days in our flagship store at Salamanca Place, we have been supporting local, working with local suppliers and producers to bring fantastic Tasmanian food directly to Tasmanians. As a proudly Tasmanian owned family business, we have always understood the importance of supporting our local […]
Supporting Local Since the Very Beginning
Ever since our very early days in our flagship store at Salamanca Place, we have been supporting local, working with local suppliers and producers to bring fantastic Tasmanian food directly to Tasmanians. As a proudly Tasmanian owned family business, we have always understood the importance of supporting our local community and economy. In fact, a number of the well known and loved Tasmanian brands were stocked in our store first, some over a 30 years ago! Our local suppliers and producers now span a huge range of food and groceries. This includes herbs, veggies and fruit, fresh meat and fish, gourmet cakes and sweet treats, smallgoods and deli items, eggs, milk, cheese and butter, biscuits, breads, preserves, sauces, nuts, cereals and even soaps!
With the global events unfolding around us, we feel it is more important than ever to support our local economy and keep our fellow Tasmanian businesses going. That's why you'll start to see more signage around our stores to point out which products are Tasmanian grown, made and owned. On our fresh produce, you'll also find a note on the price tag that specifies which state the fruit and vegetables were grown in. You might be surprised at just how extensive the range is!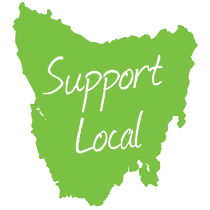 If you'd like to find out who just some of our fantastic Tasmanian suppliers and producers are, please click here. Or click the links below to visit their individual stories. This list will keep growing, as we continue to profile more local businesses.
We wish everyone all the best and we thank you all for your ongoing support and kindness during this time. Let's rally together to keep each other safe and healthy.